israel
Israel
Tour
guest-blogs
Guest Blogs
5753
It all started on an Inspiration Tour of Israel
From getting born again to getting the last available spot on Joel Rosenberg's 2011 Israel Tour to meeting her future husband who was attending that same tour in Israel—this young bride's story is one that warms the heart. She knows the Lord was at the center of it all, "moving all the pieces." For instance, shortly after Erika got saved and her mother came to help her move out of her apartment, her mom had a dream in which she heard the name, 'Joel Rosenberg'. This was long before Erika had ever heard about Joel Rosenberg's Israel tour! But God knew what was to come and was speaking of it in advance.
For the story of how Erika joined that Israel tour at the last minute and how she came to say "I do" to a young man from Texas she met on the other side of the world, read the original story here. We knew, though, that the Inspiration family would be interested to hear the details of Erika and Price's special day, so here they are in all their glory!
The excited, young bride recounts her wedding-day…
"I couldn't believe the day was finally here… Countless months of planning and preparing for this one day: November 30, 2013. I remember praying for my own family—dreaming of what my husband and children would be like. I've had the privilege of witnessing so many great families living their happily ever after; and now it was my turn.
It felt like yesterday that Price and I went to Virginia to look at wedding venues. We drove up to a charming bed and breakfast called Briar Patch Inn located in the beautiful historic town of Middleburg. As soon as we saw it, we knew it was the place. We had prayed that our wedding could be somewhere where both our families and our friends could spend quality time together before and after the wedding. (I didn't like the idea of rushing through such a special moment in our lives.)
As I sat surrounded by my beautiful bridesmaids, I couldn't help but think how crazy it was that this was not someone else's wedding, but my own. I felt excited and nervous and was trying to remember to breathe. As I took my dad's arm and walked toward my husband to be, he and I locked eyes and smiled uncontrollably. Each step I took brought joy to my heart since the time Price and I had spent apart was so hard for both of us. Now I was finally going to be with him forever. We took each other's hands as my uncle performed the service. It was the most beautiful, touching ceremony I have ever been to (and not just because it was my wedding!)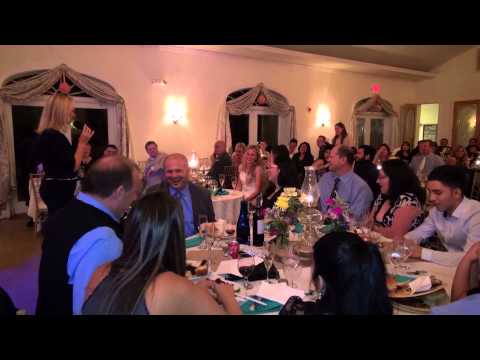 What made our day so special…
All the hard work and thoughtfulness of my family who cut the flowers and arranged the reception the night before
All the credit cards my dad used to make the day possible (It was a slow season for his business)   
My maid-of-honor and sister who brought my rustic, country-themed decor into reality
The wonderful words and prayers that came the week before our wedding
My father-in-law playing guitar as Price's sister and cousin sang beautifully
Our many loved ones who drove for hours or flew long distances to be with us on our day.
Everything was proof of the love and support these wonderful people had given to us. We were beyond blessed. We didn't want this day to end!"
Have you had any special encounters in Israel? Come with us on a future Israel tour and see what God has in store for you!